The Problem
Did you know that there is a stretch of time when a college student is more likely to be sexually assaulted than at any other time in their college career? It's called the Red Zone and according to the Department of Justice, it's the time between when a student first arrives on campus in late August and Thanksgiving break.1
A Solution
The Password: Consent campaign provides important information about the Red Zone and the tools to facilitate conversation and education on your university and high school campuses to help end it. The toolkit focuses on promoting a culture of healthy relationships where boundaries are respected and consent is the key.
Download the Password: Consent Toolkit
Get the Password: Consent toolkit for statistics on the Red Zone, education materials, and action ideas!
Download the Password: Consent Posters & Social Media Cards 
Visit our partner, Project Consent, to download the Awareness posters and shareable Social Media cards! Plus, learn more about their work and check out their Webby award winning videos.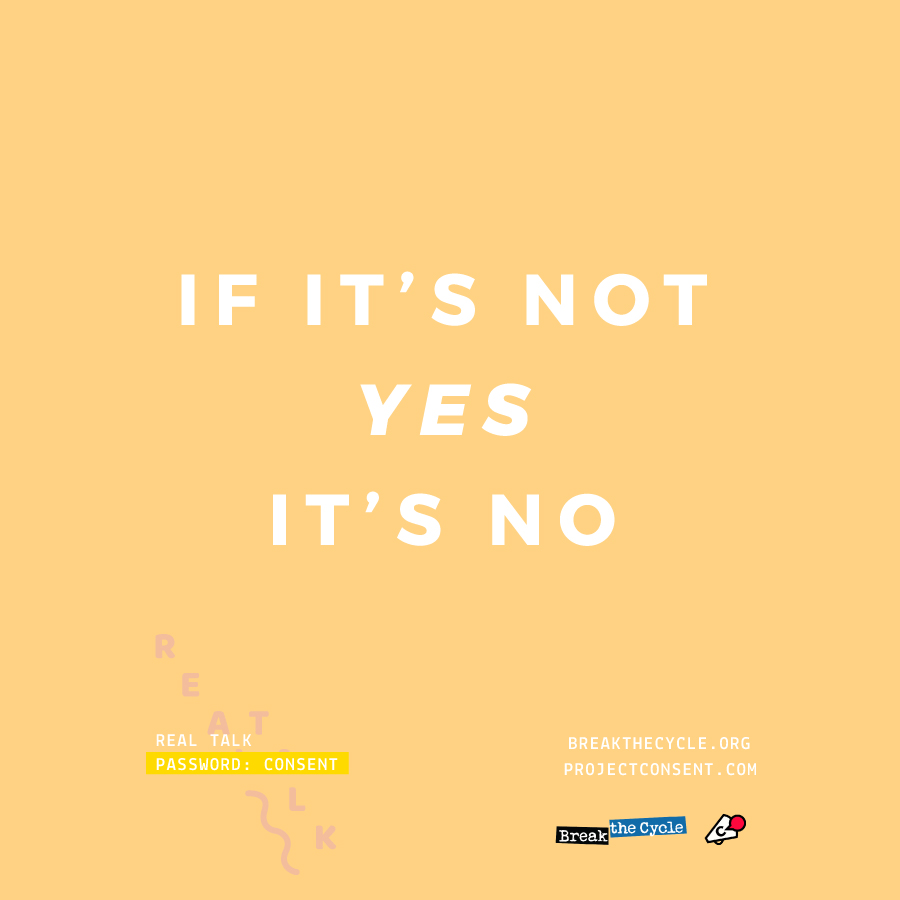 Spread the Word
Show us how you're using the Password: Consent campaign to end the Red Zone on your campus for a chance to be featured on our websites! Send us pics, videos, and stories from your Real Talks, Canvassing events, and Social Media storms with #ThePWord.
Who We Are
Project Consent believes that consent is vital in any situation and works tirelessly every day to dismantle rape culture while promoting a consent-based culture.
Break The Cycle works to inspire and support young people in building healthy relationships and create a culture without abuse.
Our collaboration recognizes that those two missions go hand in hand. We believe that consent is an established right and everyone has the right to a safe and healthy relationship.
1Krebs, C. P., Lindquist, C. H., Warner, T. D., Fisher, B. S., & Martin, S. L. (2007). The campus sexual assault (CSA) study: Final report. Washington, DC: National Institute of Justice, US Department of Justice. Retrieved from https://www.ncjrs.gov/pdffiles1/nij/grants/221153.pdf.